EVAPORATIVE COOLING 
PAD SYSTEM
The LUBING evaporative cooling Pad-System is used in systems where humidification and cooling is required. It can be used for many different cooling purposes but is particularly suitable for evaporative cooling in greenhouses.
OVERVIEW:
The LUBING Pad Climate System is used in areas where highly efficient cooling is required. It can be used for many different cooling purposes.
Water is circulated through the system by a pump station and supplied to the top of the cooling pad via a water distribution pipe and the deflector. The water flows down the corrugated surface of the evaporative cooling pad.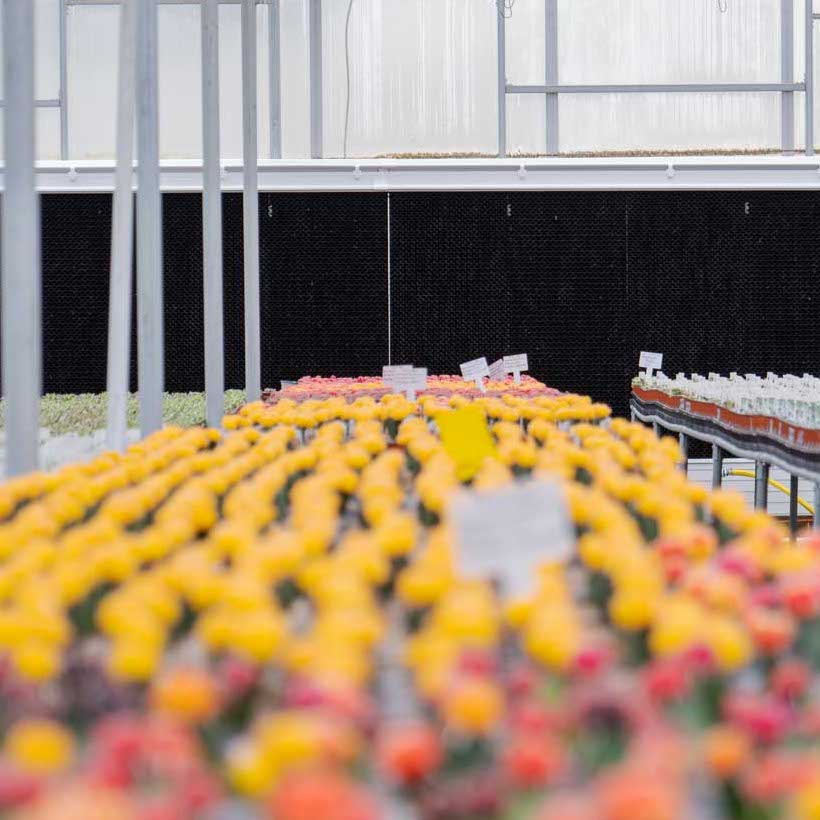 Advantages of the lubing pad system
EASY INSTALLATION
Newly designed clip profiles provide easy installation
NO CORROSION
All parts are made of PVC or stainless steel
No external water tank required
The water gutter provides a finite amount of water to run the system until evaporation losses require additional supply via an automatic float valve
IDEAL WATER DISTRIBUTION
Deflector design with integrated hinge system provides the ideal water distribution over the entire pad length
RODENT PROOF
Newly designed water trough has a rodent-proof cover and provides ideal water recirculation
ROBUST WATER PUMPS
Robust centrifugal water pumps available in different sizes and voltages
HOW IT WORKS:
Water is transported through the system from a pump station and directed onto the pads from above with a water distribution pipe and water deflector.
The water then flows over the corrugated surface of the pad where it's surface area is maximized to efficiently remove heat from the air flowing through it, resulting in some evaporation.
The remaining water is used to clean the pads and flows back to the supply unit via a water channel system. 
The thermal energy required for evaporation comes directly from the air. Therefore, the air coming out of the pads is cooled and humidified at the same time without any additional external energy supply for the evaporation process.
THE BENEFITS OF LUBING'S PLASTIC PADS:
Excellent cooling capacity – patented design: The special layout of solid surfaces and mesh structures ensures ideal water distribution through the Pad. This allows for proper wetting and less splashing, resulting in highly efficient cooling capacity
Easy to clean: The use of welded, highly resistant polymer sheets allows the plastic pad to be easily cleaned without damaging the Pads
Long service life: The use of polymer sheets in combination with thermal welding guarantees best stability and a long service life
Lowest pressure loss: At an air velocity of 300 ft/min (1.5 m/s) the plastic pad's pressure drop is only at 0.40 inches of water (10 Pa.) substantially lowering energy consumption
High UV resistance: The use of UV-stabilizing additives ensures outstanding resistance to UV light for years.
Impermeable to light: The plastic pad's geometry blocks out light from the outside
Chemical resistance: The plastic pad is made of Polypropylene, which is highly resistant to most chemicals.
Pad width: Pads are offered in 2' wide sections
Manuals/Technical Documents

LUBING Systems, L.P.
135 Corporate Dr, SW
Cleveland, TN 37311