EASYLINE 2.0
TURKEY DRINKER
EasyLine2.0 is the next generation drinking system designed specifically for brooding and finishing turkeys. At the heart of the system is the patented pendulum with new, twin-nipple technology. As the birds drink from the cup, their heads move the pendulum from side to side, thus triggering the nipples in a vertical action.
FEATURES:
Large diameter Pivot Pin requires no tools for assembly
Vertical triggering Twin-Nipples require minimal trigger force
Patented, vertical action design eliminates nearly all sliding friction between parts reducing wear and extending product life
Solid Pendulum with outer surface water flow for easy cleaning
Hygienic design makes it easy to clean
DESIGN OF 2.0
At the heart of the system is the new pendulum which triggers the nipples vertically causing water to flow along the outside of the pendulum into the cup. When the drinking system is at the proper height the feathers on the neck of the birds keep the edge of the cups clean.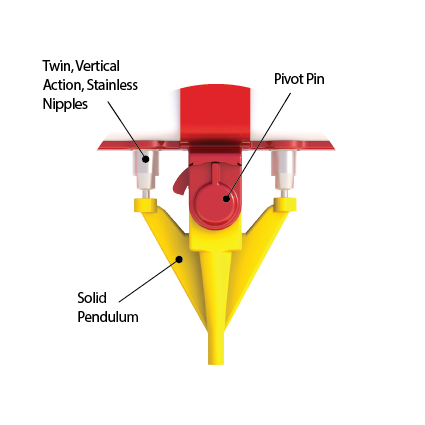 The EasyLine2.0 cup with stainless steel insert for brood and hen finishing is designed to deliver the proper amount of water to the birds from day one through every stage of their life. Water is delivered into the cup by means of the pendulum. The size of the oval cup provides easy access to the young poults and is designed to keep the litter dry during grow-out.
The EasyLine2.0 cup for tom finishing incorporates a fixed stainless steel insert and is designed to handle the aggressive behavior of larger birds. An optimal supply of water is provided to the cup through the pendulum. The design of this cup is larger in diameter to help reduce the possibility of water spillage and improve litter conditions throughout the building.
LUBING Systems, L.P.
135 Corporate Dr, SW
Cleveland, TN 37311